We're Helping the Aerospace Industry Reach New Heights
Few industries better represent the concept of cutting edge than the aerospace industry. From helping humanity explore the furthest reaches of our solar system to transporting millions of people safely each year on earth, the aerospace industry enables us to believe that the stars are within our reach. Partnering with manufacturers in such an advanced industry requires elevating your own standards for innovation and dreaming what's possible.
Finishing parts, systems and equipment represent a significant portion of the operating costs of many aerospace manufacturers, so finding ways to improve efficiency can provide a much needed boost to a company's bottom line. By knowing what our aerospace clients need, Rohner offers the features that help maximize those operating costs.
Aircraft paint and spray booths usually need to be much wider and taller than those used in other industries, especially when used to maintain and finish vehicles. Rohner works with our aerospace customers to find the most compact size that won't limit their current and future operations when sizing a spray booth. Making this type of calculation can be difficult, as it requires businesses to anticipate their future needs years in advance. Yet with Rohner's expertise, you'll have the insights required to make the right decision your business can build upon.
There's a wide variety of spray and finishing compounds used in the aerospace industry for various applications, including both liquids and powders. Depending on the type of materials being used, Rohner can include a reclamation filtration system in a booth that enables businesses to recycle some of their unused compounds. When looking to reduce operating costs, every little bit saved goes a long way toward reducing the bottom line.
Additionally, as a leader in the industrial powder coating and industrial painting equipment industry, Rohner works with our aerospace customers to maximize the efficiency of their booths without having to compromise on their finished results. Our team of experts can help during the design and selection process to determine which features and options are needed to build a booth that will provide the most long-term value.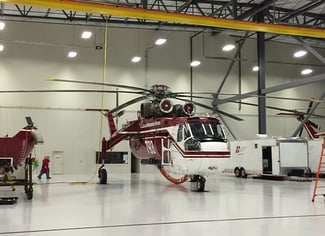 Working with the aerospace industry for 20 years has provided our team at Rohner with an intimate understanding of the serious challenges aircraft manufacturers face when it comes to selecting the right finishing systems. Aircraft booths push well beyond the boundaries of traditional catalog booths especially when used to finish large commercial and military aircraft.