CATALOG BOOTHS FROM ROHNER
Pre-Configured, Short Lead Times, Exceptional Value
You have trusted Rohner for all of your custom solutions, don't forget about our catalog booth options!
---
BATCH POWDER BOOTHS
Easy Clean Powder Booth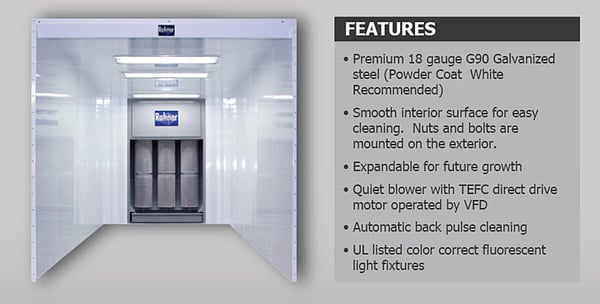 PROVEN PERFORMANCE

Pre-wired control panel reduces installation cost. Panel mounted variable volume adjustment included for optimizing air flow and transfer efficiency.
Automatic back pulse cleaning ensures consistent air flow and extends filter life. Automatic clogged filter shutdown ensures a safe environment.
Booths are designed to meet or exceed NFPA33 and IFC Chapter 24 requirements. Consult your local authority having jurisdiction for additional requirements before purchasing.