JULY FAQ: OUTDOOR PAINT BOOTHS
WHAT IS AN OUTDOOR BOOTH?
An outdoor booth structure is upgraded to withstand wind, snow and seismic load. Outdoor booths are fully insulated and enclosed with weatherproof metal cladding.
Outdoor booths should be taken into consideration if any of the following apply:
Limited or no available space in existing facility.

Expanding or building additional building space would be cost prohibitive due to building code requirements.

Outdoor booths can often be permitted as a piece of equipment reducing permit acquisition time and expense.

Fewer requirements than a building expansion. For example: no additional bathrooms required, fewer ADA restrictions, no need to update an entire facility to meet codes.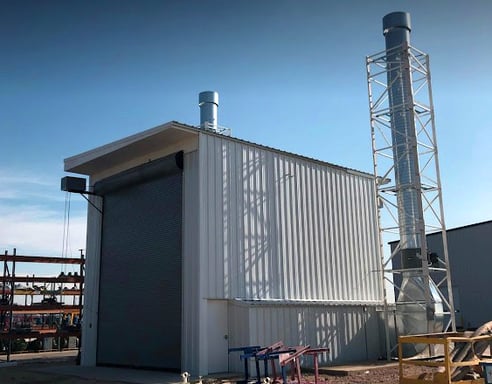 FAQ:
Are all outdoor booths are created equal? Metal building sheeting thrown on top of a standard booth is NOT an outdoor rated piece of equipment.

Does an outdoor booth need to be insulated? Outdoor booths are exposed to temperature extremes and must be fully insulated to perform properly.


Does an outdoor booths require a fire protection system?

Yes outdoor booth are required to meet all of the fire life safety requirements as an indoor booth.

In what cases would you recommend an outdoor booth? Some examples include: when you are expanding your paint operation but do not have facility space or when you are working on heavy industrial equipment that is stored outside.
PROPERLY DESIGNED AND INSTALLED OUTDOOR BOOTHS CAN MEET OR EXCEED THE PERFORMANCE OF A TYPICAL INDOOR BOOTH! CONTACT US TO LEARN MORE.