Rohner continues to provide Custom solutions for high volume liquid paint applications with environmentally friendly paint booths. Water wash booths use large volumes of recirculated water scrubbers to clean overspray out of the paint booth exhaust. Water is treated to capture paint sludge for manual or automatic extraction. Water wash plenums are available for a variety of applications.
STANDARD FEATURES PROVIDED IN ROHNER WATER WASH INCLUDE:
12 gauge galvanized G90 and seam welded tanks
14 gauge galvanized G90 scrubber
Uniform water curtain wall overspray backstop
TEFC motor and centrifugal industrial pump
PVC piping and valves
Adjustable flow control valve with gauge
INDUSTRIES FOR ROHNER WATER WASH
APPLICATIONS FOR ROHNER WATER WASH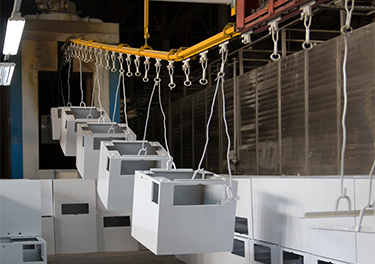 High volume manufacturing
Water Wash Booths are a great choice for assembly line finishing shops providing fast and efficient painting.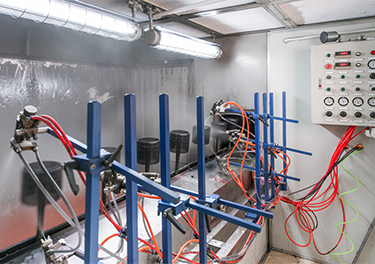 Robotic or automated painting systems
Water Wash Booths pair well with robotic painting systems, because it allows for continuous painting without having to change filters.
Environmentally Friendly
Reduces Landfill Waste. Water Wash scrubbers eliminate spent filter disposal reducing environmental impact.
Water wash booths are designed to meet the specifications of any application. For more information on standard features, dimensions and available options for our Water Wash Booth, please contact Rohner and someone on our staff will help.